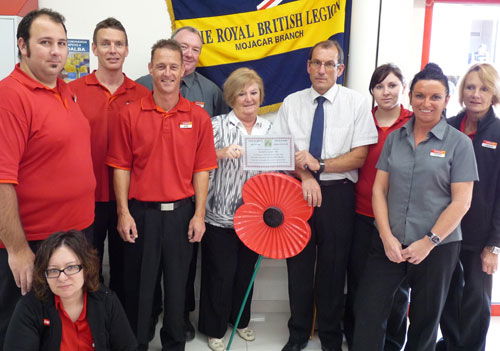 The Mojacar Branch of The Royal British Legion in Spain have revealed their 2011 Poppy Appeal Fund to be a staggering €14,206.46.
The Chairman Rita Sneddon said that this fantastic amount was due entirely to the stoic efforts of its membership and the generosity of others.
The Iceland Store staff in particular were very helpful in allowing space to be set aside for the sole aim of promoting the Poppy during the "closed" period of October 14 to November 15 and this was rewarded by their customers being so generous in their giving to the Appeal.
The Branch Annual Dinner Dance in aid of the Poppy Appeal was held at Hotel Continental in Mojacar and again this had contributed to the final figure raised together with the help from retailers such as Iceland Store & Others who had donated prizes for the Grand Draw.
The Legion provides financial, social and emotional support for those who have served and are currently serving in the Armed Forces but now find they have a need themselves.
The Royal British Legion in Spain can only continue its work while the Poppy Appeal is supported by the giving of others. The Branch meets the 1st and 3rd Thursday of each month and everyone is welcome to become a member of the Legion while those eligible for support need to have received seven days' pay as Regular, Reserve or Auxiliary of the Armed Forces.
For further details of membership call 950 473 025.
RBL said: "Thank You to All Who Supported this worthy Charity Wherever You Are." Just to give you the figures the Mojacar branch collected €10,687.46 last year and €12,233.97 in 2009 so this year is a record one!