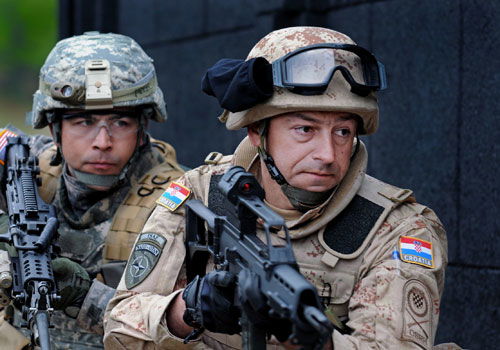 THE Nato helicopter attack which killed 24 Pakistani soldiers could hardly be described as friendly fire, particularly as the alliance claimed they were attacked first.
Taliban retaliation on behalf of Pakistan's ISI intelligence agency with which it allegedly has close links was inevitable, sources said, underlining that whatever Nato originally hoped to achieve in Afghanistan has become virtually irrelevant.
And the underlying lack of rapprochement with Islamabad – which China increasingly rushes to support – only makes a bad situation worse.
Photo credit: Sgt. 1st Class Tyrone Walker
Golden opportunists
STRIKING Unison members in Britain were not the Jarrow marchers.
Nor were they the miners who saw their livelihoods slipping away. Instead, as the Chinese would say, they have had the misfortune of living in interesting times.
But whatever their grievances at pension cuts, last week's stoppages will hardly endear them to private sector taxpayers – the very people who stump up for those gold-plated public pensions.
The unkindest cut of all
Holland's Defence minister recently lamented that 64 per cent of the population preferred reduced Defence spending to Health cuts. Elsewhere in Western Europe, a similar proportion would probably agree, not because they have no enemies but because any armed conflicts they finance occur on the other side of the world, usually to disastrous results.
And an efficient Health service saves many more lives than armies.