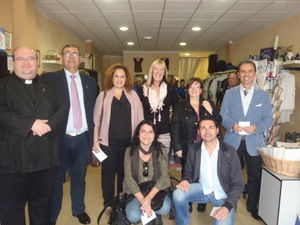 LOCAL cancer support charity MACS opened their first shop last Saturday on the High Street in Turre amid a huge fanfare, crowd an impressive assortment of dignitaries.
These included: Alejandro Guerrero Salvador (Honorary Consul of Almeria); Arturo Grima (Mayor of Turre), and Maria Gonzalez Martinez (Mayor of Los Gallardos), among others.
The tireless work that founder Elaine Brown puts into this charity with the help of unpaid volunteers cannot be praised highly enough. Special mention was made of the MACS volunteers who will run the shop, and Elaine hoped it will continue to be a huge success and vital fundraiser for the future expansion of MACS, fuelling hopes that funds from the shop will go towards providing a future palliative care hospital in the area.
Other cancer charities have achieved this in other areas of Spain, with continued donations and high profile sponsorship, and MACS hopes to be able to provide this much needed service in the near future, as well as continuing to provide care and assistance to cancer sufferers and their carers.
By Richard Shanley