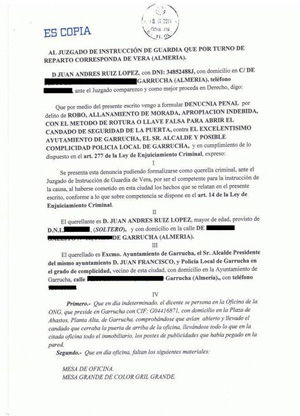 WHEN workmen showed up in a town hall lorry first thing in the morning at a local charity organisation's office in Garrucha breaking the padlock off the door before forcing the doors open and hauling the entire contents of the office onto their lorry, neighbouring business owners assumed that they were just doing their job.
It wasn't until a few days later when Juan Andres Ruiz Lopez, president of the Asociacion Contra la Vulneracion de los Derechos Fundamentales de Garrucha – an organisation that claims to defend basic human rights, primarily of immigrant people – posted a note on the notice board at the old cattle market in which the NGO had their office, that onlookers realised they had actually perhaps witnessed something quite untoward.
According to the other business owners, the upper-floor office was granted to Juan Andres and his human rights ONG over five years ago by Garrucha town hall officials when the left-wing PSOE party was in office locally.
Neighbouring business owners have confirmed that during the last few years the office hasn't been open on a regular basis and that they aren't sure whether the organisation is still in operation. When they saw furniture being removed they just assumed that the office was closing down.
Juan Andres Ruiz Lopez has filed a denuncia (police report) accusing the Mayor of Garrucha, Juan Francisco Fernandez and the town hall of breaking and entering and stealing furniture and office equipment up to the value of €3,000.
If found guilty, the accused could face up to five years in prison.
The conservative Popular Party (PP) mayor who is now in his second term of office in Garrucha reportedly denied all knowledge of the "denuncia" and of having said that he was surprised there was actually any furniture in the office seeing as the organisation had been out of operation for at least five years.
Meanwhile, business continues as usual for the fishmongers, take-away food sellers and beggars at the old cattle market who seem quite happy to talk about the recent incident and wondering out loud as to what the recently vacated office will become.

By Susan Leach