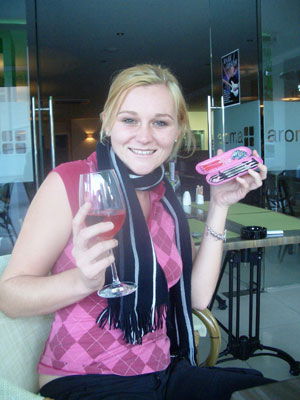 ENGLISH RADIO MALLORCA (ERM) has organised various events between now and Christmas to raise money for its 'Happy Hamper Appeal' for Age Concern Mallorca.
Every Wednesday evening a darts tournament will take place at Aroma Restaurant in El Toro. The entrance fee for players is €6 with €1 going to the appeal and the other €5 to the Prize Pot for the winner.
One of the ERM radio team Sammie Stent (pictured) even has her own ´lucky´ pink darts set that she will use to compete and take on the rest of the ERM presenters and anyone else who wishes to play.
"You don't have to be a great darts player" said Laura Penn from ER. "It is an open competition for all and the idea is to have fun and raise some money for the hamper appeal at the same time." Aroma Restaurant owner Mark Scott is delighted to welcome anyone to play in the tournament.
"We already had a darts night on Wednesday evenings which started a few weeks ago, but it adds a nice element to raise some money for Age Concern between now and Christmas with the ERM appeal," he said.
"There is a collection box in the restaurant so anyone who comes to Aroma can drop off their donations for the hampers there too."
Items needed are groceries and toiletries and the cash raised will purchase medicines and extra articles for the hampers which will be delivered to the senior citizens on Mallorca before Christmas.
ERM has other events planned including a pool tournament, lawn bowls tournament and a mini golf tournament which everyone is invited to participate in.
Laura Penn said: "The events we are doing are to raise a bit of extra cash for Age Concern and to get people together for a fun time too."
The collection boxes for the ERM Happy Hamper Appeal are situated at various locations across the island.