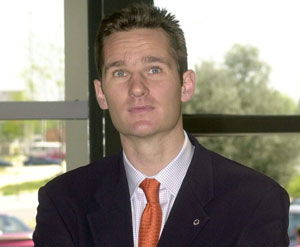 THE King of Spain's son-in-law, the Duke consort of Palma Iñaki Urdangarin, has returned from Washington to prepare his defence against allegations of corruption.
Urdangarin and the King's youngest daughter, Cristina, live in Washington with their children.
The Balearic Islands Anti-corruption Prosecutor has declared that he and his associate Diego Torres created a network of companies to embezzle funds received by the Noos Institute, the NGO they presided.
Urdangarin will meet with lawyers to "defend his honour and innocence" and will issue a public statement once secrecy is lifted from the case.
King Juan Carlos reportedly told his son-in-law that it would be "best" for him to come forward to defend his innocence. However, the Royal Household has made no comment regarding the allegations, except for expressing its "absolute respect" for the legal decisions.
Sources close to the Royal Family say that the King is very upset about the matter, and that if Iñaki Urdangarin is charged, he will have to face trial like any other citizen.