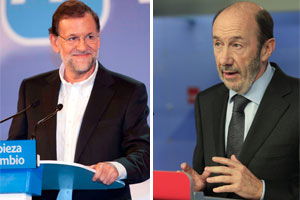 This Sunday Spain goes to the polls, hoping to choose the right person to guide the country out of recession, crisis and unemployment, Annie Maples reports. Will it be Mariano Rajoy or Alfredo Perez Rubalcaba?
Approximately 28 million Spanish voters will cast their votes on November 20 although unlike last May's municipal elections, foreign residents are not eligible.
But whatever happens next Sunday, expats will notice the change of government in a country whose economic fate is considered key to the eurozone's future.
Unless the opinion polls and pundits are hopelessly wrong, victory and an overall majority will go to the conservative PP candidate, Mariano Rajoy, who lost in 2004 and 2008 to PSOE socialist Jose Luis Rodriguez Zapatero. It could be third time lucky for Rajoy and only the third PP government since the Transition to democracy.
Rajoy's rival this time round is former vice-president, Alfredo Rubalcaba. Paradoxically Rubalcaba's public image is better than Rajoy's but his party's popularity plummeted as Spain sank deeper into recession.
The government floundered in an economic quagmire as the global crisis devastated the construction industry, putting 5 million Spaniards out of work.
Initially Zapatero adopted the textbook remedy of creating more employment through government-financed projects but could not hold back the tide of job losses.
Then came spending cuts, wage cuts, a pensions' freeze and the disappearance of the #i#cheque-bebe#i# for new parents. These, coupled to rising unemployment, alienated all but core PSOE voters.
The PSOE pushed through social reforms including gay marriage, adoption for same-sex couples and fewer abortion restrictions. Specific legislation now pursues gender-based violence, guarantees equality and ensures dignity in death.
And with ETA announcing a definitive ceasefire last month, Zapatero should have exited on a high. Instead he is a burnt-out crisis victim.
What does Rajoy offer? He promises employment but has yet to give explicit answers about achieving this but insists his policies will generate sufficient confidence to produce jobs.
He opts for austerity and slimming down the Administration, with fewer ministries and Culture already on his hit-list. Neither would he recur to the higher prices for alcohol and tobacco proposed by the PSOE, with wealth tax similarly ruled out.
Any government he headed would do nothing to adversely affect the worst-off, Rajoy pledged during his first campaign meeting in the Madrid suburb of Leganes.
"I'll cut everything except pensions, health and education," he told an interviewer from national newspaper, #i#ABC#i#.
Rajoy would inherit legislation he opposed when it was introduced. This includes granting nation status to Cataluña, gay marriage and abortion on demand up to 14 weeks and, in some circumstances, without parents' knowledge. The PP ridiculed January's stringent no-smoking laws and once hinted that they would be modified if the party came to power.
Two potential flies in the ointment are unlikely to influence voters on Sunday. The 15-M movement, mobilised for last May's municipal elections with the claim that neither of the two principal parties represented any interests but their own, prompts little more than sympathy.
Likewise the many corruption cases enmeshing both parties, with the PP allegedly more involved, are not liable to impede a Rajoy victory. Spanish voters want economic solutions, not revenge for backhanders.
Ideology will possibly play a minor role, regardless of who wins in three days' time, because there are 5 million unemployed and it requires global recovery to put them back in work. The daunting knowledge that the time for words has passed and the moment for action has arrived could sour the satisfying taste of victory.