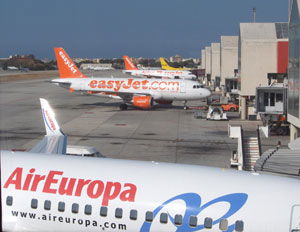 NEARLY a fifth of all passengers arriving on low-cost airlines in Spain, fly into Palma de Mallorca. As a region, the Balearics sees a quarter of total low-cost passengers of which three quarters fly to Palma airport.
Between January and October this year, 5.9 million budget airline passengers have passed through Son Sant Joan, according to data from the Institute of Tourism Studies (IET).
This is 12 per cent more people compared to last year.
Regionally, the Balearics saw 7.6 million passenger arrivals on low-cost airlines, also around 12 per cent more. Nationally, 32.2 million passengers travelled on low cost airlines between January and October.
This was a bigger increase with 14 per cent more people flying in on low-cost airlines than they did last year.
In October, Palma was the Spanish destination that received the highest number of passengers on low cost airlines with nearly 610,000. This is four-fifths of the total arrivals to the Balearics and nearly 15 per cent more people than the same month last year.
The number of passengers arriving in Palma on traditional airlines also increased in the first 10 months of the year with more than two million, 8.4 per cent more.
This was three-quarters of the total passenger arrivals to the Balearics but less than a 10th of those arriving nationally.
Nationally, traditional companies transported 23.7million passengers nationally, up 7.8 per cent.
In October, nearly 90 per cent of arrivals on traditional airlines in the Balearic Islands landed at Palma airport.
Meanwhile, two Austrian men in their early 20s were arrested in Palma airport for allegedly trying to assault a police officer and resisting arrest.
They were reportedly drunk in the departure lounge and were causing mayhem in several shops where they had thrown objects from shelves onto the ground.
When the officer reproached them, they allegedly assaulted him.
By Nicole Hallett