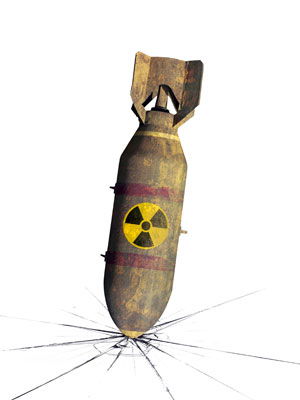 THERE can be little doubt that Iran's nuclear programme includes weapons, which it presumably wants for the same reason that India, Pakistan and Israel have them.
After an International Atomic Energy Agency report appeared to confirm the West's worst nightmare, Washington predictably demanded tougher sanctions and Russia called for diplomacy.
But will Iran use nuclear weapons, knowing that reprisals would unleash more conflict and destruction than it could either inflict or handle?
That is why it's called a nuclear deterrent.
High price for low prices
CHINA, increasingly fawned upon by beleaguered European economies, criticised the "accumulated troubles of the worn-out welfare society" and condemned labour laws for encouraging "sloth, indolence, rather than hard work."
These are certainly problems that China does not have to contend with, but it only became the world's banker by churning out low-cost exports at a high cost to the wellbeing and interests of its own people.
No mask of anonymity
THE Anonymous hacker movement has abandoned plans to expose collaborators with the Mexican drug cartels.
One, the Zetas, threatened to kill 10 people for every collaborator named and Anonymous said it now intended to spark a mass internet response as it did in Tunisia and Egypt.
Unfortunately, while there is a market for cocaine, neither Anonymous nor anyone else can make a jot of difference.