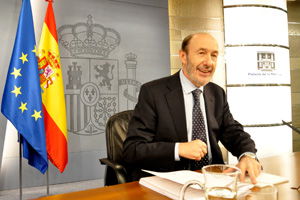 Socialist. Born July 28, 1951 in Solares (Cantabria). Grew up in Madrid and attended the elite Colegio del Pilar which has produced both socialist and conservative politicians.
One of his grandfathers was a pilot in Franco's air force during the Civil War although another was Republican.
Has a doctorate in Organic Chemistry from Madrid University and was an outstanding sprinter. Joined the PSOE in 1974 and entered politics in 1985 as Director General for Education.
Four times a minister with Felipe Gonzalez and then Jose Luis Rodriguez. Supports Real Madrid and likes Havana cigars, classical music and paddle tennis.
Married to Pilar Goya, no children. Speaks English and French.