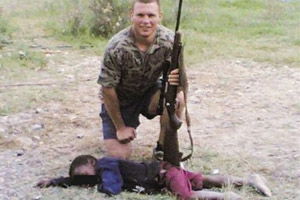 A MALLORCA politician has resigned after uploading a doctored sexist photo of Defence Minister Carme Chacon to her Facebook profile.
Francisca Pol, who was the conservative Partido Popular candidate for the senate in Mallorca, uploaded a doctored photo which showed Chacon with her blouse open showing her breast, surrounded by top military representatives, with the comment "the things a PSOE Minister has to do to get votes".
The photo was 'liked' by the former PP mayor of Palma, Joan Fageda.
After the image came to light, Pol resigned from all her public positions in what she called an act of "political responsibility" to prevent the image of the other PP candidates for the Congress and the Senate, and her party from being tarnished. She also said that her resignation was voluntarily and apologized to anyone who had been offended.
The lawyer and businesswoman said her intention had "never been to offend anyone" neither the public nor members of the socialist party.
The socialist party in Palma demanded her resignation for "shameful and despicable acts against the image of women".