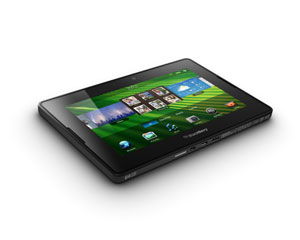 The Playbook is a 7 inch screen tablet made by Research in Motion (the company behind Blackberry Smartphones) was released earlier this year.
It can support 1080p video playback and features a 3 megapixel camera on the front and a 5 megapixel camera on the back.
There is the possibility to make a wireless conection to synchronize the tablet to Blackberry smartphone so that the user can to check their email, phone contacts.
The playbook weighs only 425g making it lighter than apple's iPad. The tablet is now available with the following options: 16GB (€499), 32GB (€599) and 64GB (€699).