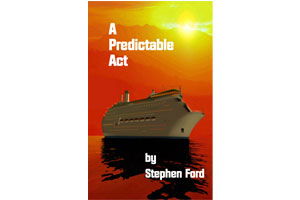 Ayman al-Zawahiri, the new leader of al-Qaeda is no longer prepared to send suicide missions to attack the infidels.
Instead he intends for his fighters to survive and return as heroes. It will make for good propaganda and fund raising, especially amongst the wealthy Princes of Saudi Arabia.
To accomplish his will four warriors undergo intense training to enable them to survive unnoticed in the West.
An opportune picture taken by a satellite over the Arabian Sea clearly shows a clandestine rendezvous between a surfaced submarine and a yacht. What Michael Burrows of the British SIS does not know is the reason for the encounter. Is it the transfer of people, industrial secrets, or perhaps something even more sinister?
He correctly guesses the intended course of the yacht through the Suez Canal but disastrously fails to track the yacht once it has entered the Mediterranean. Only after the terrorists strike is the hunt on.
The terrorists evade their pursuers and make their way to the United Kingdom intending to carry out yet another deadly attack. Now the lives of thousands depend upon SIS contacting their agent buried deep in the al-Qaeda network. Unbeknown to SIS an untimely attack by Pakistani forces prevents him from warning his Controller in London of the first attack.
He lays near to death from shrapnel wounds. The story culminates in a race against time. Will the agent recover from his wounds to warn London or will the terrorists destroy their second target and evade capture?
'A Predictable Act' by Stephen Ford is available electronically from www.smashwords.com in all formats and also in paperback from Amazon.
Book review by Gabrielle Devon