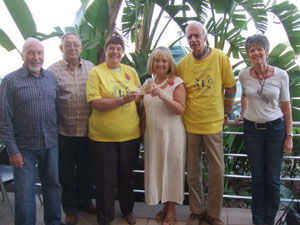 DURING the summer the Vera Lions Club members were busy selling quiz sheets for €1. The quiz kept many people awake at night trying to solve the varied cryptic questions.
The winners are:
First prize winner Mrs Geraldine Guy, €50. Second prize winner Mr David Rusbridge, €25. Third prize winners Phil & Trudi Louch, €10.
The proceeds from the quiz will be used to support people in need in our local community. Vera Lions club is a new service club in the Albox to Mojacar area, which aims to look after the needs of those people less fortunate than ourselves.
Do you know somebody who is in genuine need of help? Contact [email protected] or call 660 887 723.