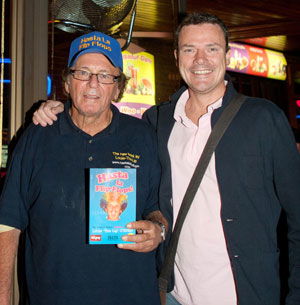 A new book about the heyday of tourism in Mallorca has just been released. 'Hasta La Flip Flops!', is the true story of Louie O'Brien and chronicles his time living and working on the island from the late sixties through to the mid-nineties.
It's also tells the story of an innocent but revolutionary time in Mallorcan history.
Louie started at the bottom, selling tickets for the wild all-day boat trips and beach parties on the beaches around Palma. By the mid-seventies, he was the MC and part owner of Alexandra's, the legendary club in Plaza Gomila, at that time the heart of Palma's club scene and a magnet for tourists from the UK, Scandinavia, Germany and Spain.
The book tells of many tales of brushes with the law, rival club owners and competitors, of how Louie introduced the Wet T-Shirt competition to the Europe and finally of the sad decline of the club.Early reviews of the book have been complimentary, local author Anna Nicholas said it was 'hugely entertaining' and 'an addictive page-turner'.
Hasta La Flip Flops! is on sale at various outlets around the island including the Prince William Pub in Son Matias (pictured). More information can be found at www.hastalaflipflops.com
Photo credit: Phoenix Media