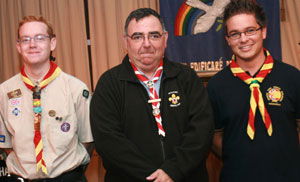 TWO Explorer Scouts were presented with their Gold Duke of Edinburgh Award in Fuengirola.
Tony Galliano, Assistant Chief Commissioner travelled from Gibraltar to present the award to Callum Lippe and Ben Taplin, making them the first scouts in 'British Groups Abroad' to the receive it was also a first for the scout troop since it formed 14 years ago.
Callum Lippe, 18, said "It's a tough award to achieve but it's definitely worth the time and effort I know it will help me in the future when finding a job".
Assistant Chief Commissioner Galliano told EWN "the Award is the one of the biggest in scouting which runs parallel with the Queen's Scout Award and the people who do it work on their leadership skills, team building and prove they are trustworthy".
To receive this award the participants have to be over 16-years-old, spend 12-months and under take a physical activity and learn a skill for 6 months on one and a further 12 months on the other.
Undertake an expedition which lasts four days and three nights and undertake a residential project which is spending five days and four nights away from home doing a project.
By James Yeadon