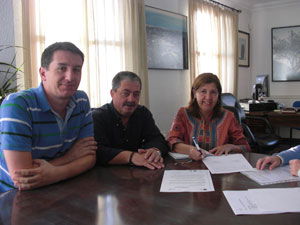 MOJACAR will soon have a new tourist attraction for hiking enthusiasts, a nine-kilometre circular route.
The Mayor of Mojacar, Rosa Maria Cano, signed an agreement with the Levante Almeriense Rural Development Group manager Juan Valero and the president of the group, Miguel Haro, to prepare 'La Mena-Macenas' route with signs and two observatories.
Around €50,000 will be invested in this project which will be paid by the Rural Development Group (80 per cent) and the town hall (20 per cent).