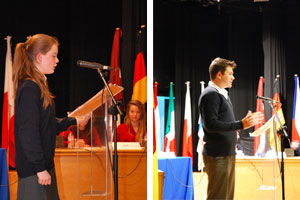 THERE will be a competitive debate between two teams from Bellver International College on Thursday November 10.
Competitive debating was introduced to the international schools on the island by Mr Loddo, the principal at Bellver, last year as part of the 'Intercultural Week' celebrations which were organised by the International Department of Calvia Town Hall.
It has really caught on and the enthusiasm and commitment have been growing all the time.
The motion of the debate is 'This house believes that there will never be peace in the Middle East until there is a recognised Palestinian state'.
It promises to be a very lively discussion.
This will form part of the training which the students of Bellver are undergoing, in preparation for the world championships in Slovenia this December.
The standard is extremely high and the students have been working hard researching and honing their debating skills in order to do themselves and their school proud. There will be cheese and wine served after the event. The support of EWN readers would be greatly appreciated.
The event starts at at the school located at C/Jose Costa y Ferrer No.5, 07015 Cala Mayor, Palma.