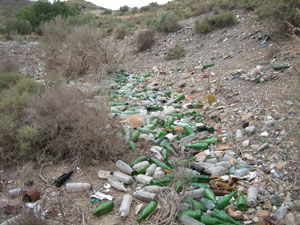 HERE are three photographs showing how the residents of Turre dispose of their rubbish – in back alleys, on dirt tracks and along walkways, just off main roads!
It has all come from the locals – letters, leaflets, newspapers with street numbers and names on them simply don't lie.
It's becoming an eyesore to many.
Let's hope people have the decency to get out and help clean up this place on November 12 and 13.
My wife and I plus two friends on holiday from Devon, England, started last weekend… and we collected at least 300 cans and bottles in two hours.
Take note please Mr Mayor and your council!
By Tony Matthews
[email protected]