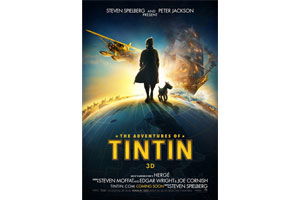 THE Adventures of Tintin is of course based on the comic books of the same name created by Belgian artist Hergé (Georges Remi).
Directed by Steven Spielberg, the script is based on three of the stories: The Crab with the Golden Claws, The Secret of the Unicorn, and Red Rackham's Treasure.
The film depicts adventure-seeking Belgian reporter Tintin's (Jamie Bell) first encounter with Captain Haddock (Andy Serkis) and the discovery of a clue to the treasure of his ancestor Sir Francis Haddoque that was lost at sea four centuries ago.
They set out to find it with protection from a prison escapee who tried to get the treasure as well as Detectives Thompson and Thomson (Simon Pegg and Nick Frost).
Meanwhile, the malevolent Red Rackham (Daniel Craig) is determined to beat them to it.
When The Adventures of Tintin works, it really works, providing some truly fun and exciting action. It is a well put together, visually interested animation.
The problem is the way in which the overall mystery-adventure plot is told. The execution makes it appear to be going just from one scene to the next without much connection. It may be something that works in the comic, but on screen, it feels disjointed.
However, in general, it is an enjoyable film for the whole family, which fans will probably enjoy. Spielberg himself is a great fan of the Tintin comic books and meant this film to be a tribute to their creator.
Film review by Gabrielle Devon