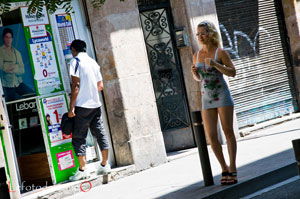 ONE in four Spanish males has used the services of prostitutes, according to a government report.
Spaniards aged between 35 and 55 are the principal clients for Europe's sex industry, ahead of Switzerland (19 per cent), Austria (15 per cent), the Netherlands (14 per cent) and Sweden (13 per cent).
The statistics were quoted in a guide on sexual exploitation compiled by APRAMP, a support group for prostitutes, and published by the ministry of Health, Social Policies and Equality.
Approximately 1,000,000 women currently worked as prostitutes in the European Union, said the group's president Rocio Nieto, at the presentation of the 122-page guide.
Also present was junior Health minister Laura Seara, who announced the signing of an agreement on assistance for the victims of prostitution "within days".
Based on statistics from the UN and the International Migration Organisation, APRAMP calculated that around 500,000 women worked in conditions of slavery in European brothels and clubs.
The former Yugoslavia was now a principal centre for trafficking young girls and women, with around 300,000 victims either coming from the Balkans or passing through in transit.
Many problems remained although the situation had improved greatly over the last three years, Nieto maintained. But sex-trafficking was one of the worst things that could exist in a welfare state, she said, because its victims – women and girls – were despised, used and enslaved.
Photo credit: Paolo Mangoni