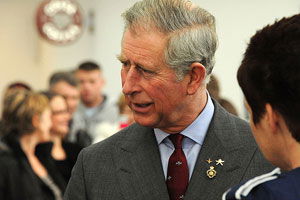 PRINCE CHARLES says he is related to Vlad the Impaler, the cruel 15th Century Romanian warlord who helped inspire Bram Stoker's 1897 vampire novel Dracula in an upcoming TV show to promote protecting Transylvania forests.
Photo credit: University Hospitals Birmingham
Missing knowledge
HALF of Britons younger than age 40 do not know how to bleed a radiator, 75 per cent have no idea how to check the pressure on their boiler and 81 per cent have no clue how to deal with a frozen pipe, according to a survey by British Gas.
Gambling children
YOUNG children, some as young as five, are stealing to pay off gambling debts they have run up playing 'marbles' in the street, according to police in Plymouth, Devon.
Playing Poo
A GAME called 'Doggie Poo' in which a toy dog leaves 'little presents' for children to clean up is set to become one of this Christmas's best selling gifts.
Crisps banned
US health officials have banned Scottish company Mackie's beef flavoured crisps over fears of mad cow disease. They have been forced to change the recipe before they are launched in the States.
ATM in Cockney
A CASH machine in Leytonstone, East London is offering customers the choice of using the service in either standard English or Cockney.
UFO is moon
A MAN from Hertforshire called 999 in a state of panic after spotting a mysterious object coming towards his house with lights blazing, only to find out it was the moon.
Insane calendar
AN Insane Asylum 2012 Wall Calendar has been produced by Roundabouts of Britian, who are also responsible for calendars featuring topics including road kill and prisons.