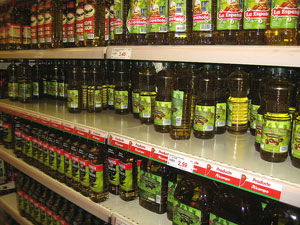 BETWEEN January and August this year, the 13 oil mills in Almeria province have exported more than 280 tonnes of olive oil.
This is 19 per cent more than was exported over the same period last year, and has earned them €593,000, 3.5 per cent more than in 2010, according to data from the Agriculture and Fishery Delegation of the Junta de Andalucia.
The main client for Almeria's olive oil is Switzerland, which purchased almost 40 per cent of the total at a cost of €122,000. They are followed by the USA (15.4 per cent), Andorra (almost 12 per cent) and Holland with 11.2 per cent.
However, the delegate for the department, Jose Antonio Salinas, remarked especially on how exports to the Far East have increased, as Japan and China between them import 5.5 per cent of the total produce.
Almeria's olives for this year have been grown on 19,312 hectares of olive groves throughout the province, which is 200 hectares more than last year.
Olive producers expect to collect around 51,442 tonnes of olives, of which 50,000 will be used for olive oil, and 1,500 for table olives. The amount of oil produced will be around 9,720 tonnes, of which 7,300 tonnes will be extra virgin olive oil.
Photo credit: bryangeek