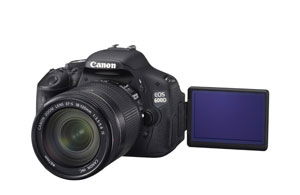 The 18 megapixel camera made by Canon was released earlier this year. An improvement from the previous EOS 550D model is the multi-angle 3 inch lcd screen.
It is capable of shooting a maximum of 3.7 shots per second and it is also possible to record videos in full HD.
The EOS 600D is according to Canon 'Ideal for beginners, a Feature Guide has been added to the EOS 600D's menu system which offers a brief description of each key setting and its effect, helping you learn more about the camera as you use it'.
The current price of the camera with the 18-55mm kit lens at Fotoprix is €719