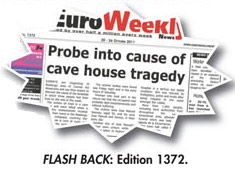 EXPERTS believe recent rains caused the landslide in Cuevas del Almanzora which killed three people in a cave house.
Residents in the area now fear that future rains, especially as the autumn has arrived, could cause further disasters. Some already lost their homes and businesses in the recent landslide, but those who had to carry out small repairs are now afraid that this could be just the first signs of something much more dangerous.
The experts have ruled out seismic movement as the cause of the landslide and believe that natural erosion of the terrain, caused mainly by heavy rains two years ago followed by a drought, is the most probable explanation. The rain, they believe, left cracks which then caused part of the terrain to break away when it dried.
The Mayor, Jesus Caicedo, reported that nets were being put into place to prevent further landslides in the Realengo area. The landslide caused 3,000 cubic metres of earth and rocks to fall on the cave houses in the area. This large amount of rubble hindered the rescue operation and three inhabitants of one of the homes, aged 52, 25 and 21, were found dead. Another two people were injured.
The government sub-delegation and Civil Protection have opened the process to provide the funds needed to remove the debris and help families in emergency situations.
By Jennifer Leighfield