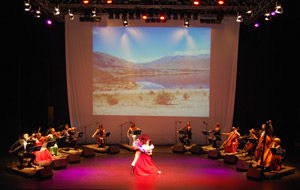 ARCOS DE BUENOS AIRES will play a unique String Chamber Orchestra making Tango and Argentinian Folk in concert accompanied by the ballet in Adra on 5 November at 21:00.
The Company is conducted by the prestigious violinist and conductor Walter O Tejeda Carranza will be introducing the show "La Porteña", an Unique combination of music and dance with 17 artists on stage performing Argentinian Tango and Argentinian Folk Music and Dance.
Arcos de Buenos Aires has performed in many of the most important International Festivals and Stages like Teatro Comunale di Bologna , 'Bosforous International Music Festival' (Cemal Resit Rey Concert Hall – Istambul), 'Oldenburg International Festival', '2nd International Music Festival' "Inessa Galant" (Dintzari Concert Hall – Jurmala, Letonia)" or "Istanbul – 2010 Culture Capital (Cemal Resit Rey Concert Hall – Istambul)
In these moments Arcos de Buenos Aires is the Unique String Chamber Orchestra that makes Argentinian Tango and Folklore in concert with this show for all audiences.
You can reserve your tickets by ringing 654576363, tickets will be also selling two hours before the concert in the theatre.