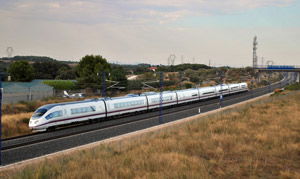 THE Ministry of Public Works has promised that the high speed railway route between Almeria and the French border will be running by 2020.
The Secretary of State for Transport with the Ministry of Public Works, Isaias Taboas, guaranteed that the 'Corredor Mediterraneo' which will be used for transporting both passengers and goods, will be carried out by the dates promised by the government because "it has been accepted by the European Commission, making it an obligation for Spain" because failing to comply with a European directive leads to penalties.
The 'Corredor Mediterraneo' runs from France to Cartagena and Almeria via Barcelona and Valencia. From Almeria it will run inland to Granada and Sevilla.
He said that the section between Almeria and Algeciras will also be in operation with temporary solutions by 2020, and that by 2030 it would be operating in the same conditions and EU width as the rest of the route.
He explained that the government estimated the high speed AVE trains will be operating in Alicante in 2012 and in Murcia in 2014, which will used some tracks unused and "all that has to be done is connect Barcelona to the north and bring it down to Almeria".
This, he said, will guarantee connections to all ports, which is a priority to make Spanish businesses more competitive in the European market, and he also explained that connections to airports were not planned anywhere in Spain.
Photo credit: Luca Xavier Bozzo