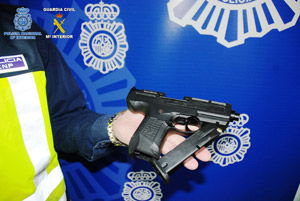 A GANG of violent robbers who targeted homes and businesses in Almeria and Murcia was arrested, official sources said.
The group was responsible for at least five armed robberies and thefts of high-range vehicles which they later used when committing the crimes.
All of the members of the gang were North Africans and had previously belonged to a gang which was dismantled in 2010.
They would locate the establishments which they later planned to target and study the area before going ahead with the crime using masks, gloves and firearms. Others would keep watch for the police.
On November 24, 2010 they committed an armed robbery in Cuevas del Almanzora using a gun and a sword and threatened to shoot the company's staff.
Four days later they targeted a company in Lorca where they stole money, a vehicle and other items.
On December 15, 2010, they held-up a bar in Almeria city and shot one of the employees in the stomach. They are also charged with two other robberies in Fortuna (Murcia) and Adra.