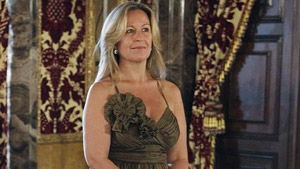 THE Foreign Affairs Minister, Trinidad Jimenez, chose a low-cut party dress to attend one of the most solemn acts held in Spain in presence of the King.
King Juan Carlos I received the new ambassadors of Venezuela, Israel and four other countries to present them with their credentials at an event held at the Royal Palace at 11.30am.
This is a very special ceremony in which the ambassadors are brought to the palace by horse drawn carriages, escorted by the Royal Guard and received with the Spanish National Anthem. The King wears his Army uniform and the ambassadors must wear their diplomats uniform, a morning suit with white tie and waistcoat, or their national costume.
Women are required to attend these events with ceremonial gowns, which are also long, like party dresses, but more formal, somber and above all, have higher necklines.