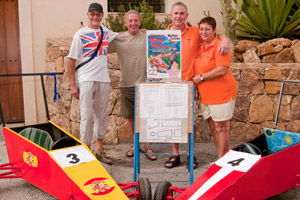 A RECORD crowd were out in force last weekend in Villaricos for the annual Wacky Races event raising money for Asprodalba the special needs learning facility in Vera.
At the time of going to press the final figure raised was not known but judging by the furious counting going on inside Taberna Cristina a tidy sum will have been achieved.
Organised by Martyn, Irene and the team from Taberna Cristina this year saw a change to proceedings with the soapbox go karts racing against the clock as opposed to each other.
This proved to be an inspired choice making the event a whole lot safer than in previous years (Who remembers Alan from Frankies Bar having to go to hospital for stitches?)
The weather was fair to middling with just a slight rain shower towards the end of the day but this did not detract from the overall outcome which saw host bar Taberna Cristina take the prestigious title.
Marina Sol came in second, Genesis 3rd and Costa Coche 4th.
In between the races the crowd were entertained by belly dancers, singers and a dog show with Duncan from Captain Sunshine's Disco as MC for the day. However the star of the show proved to be 10 year old Rene Parsons whose angelic voice almost had the assembled throng moved to tears.
Photographs of the day there are available on Spectrum FM's facebook page 'Spectrum 92.6FM Costa Almeria.'
Photo credit: almeria-fotografia.com
By Richard Shanley