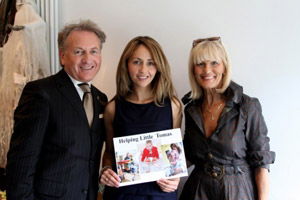 ACTRESS Samia Smith, known for her role as Maria Connor in UK TV soap Coronation Street, has become a patron and supporter for the Tomas Leighton Charity.
Six-year-old Tomas, who was with cerebral palsy and totally blind, lives with his parents on the Costa del Sol.
He was also diagnosed with West Syndrome, a severe form of epilepsy. Despite these problems, he is a happy child who is keen to learn and has made great progress, surprising even his medical team.
This development was brought about by Brian and Maxine Warner from Warner Entertainments Agency in Manchester, who are also huge supporters of Tomas and have been involved in many fundraising efforts for TLC.
Tomas's family said "We are so proud of their efforts on behalf of Tomas, and are thrilled and honoured that Samia Smith is now a Patron and supporter of TLC".
All of the money raised by TLC goes to Tomas for physiotherapy, sight and speech stimulation and other specialised care. The aim is to raise enough to pay for stem cell treatment, to assist in regenerating the damaged areas of his brain and help him to see better and facilitate better learning and mobility.
More information on WWW.TLC-CHARITY.COM
By Jennifer Leighfield