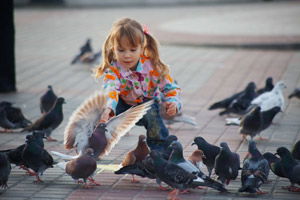 ANYONE feeding the pigeons in a Madrid park or giving food to a stray cat now risks a €1,500 fine. So, too, do the beggars accompanied by animals, usually dogs.
The rash of recent by-laws was another symptom of present-day city life, according to sociologists. Inhabitants were more isolated from what went on around them while immigration brought an influx of different customs, they said.
A typical example was Guadalix de la Sierra (population 2,500) in Madrid province, where local laws have introduced fines of up to €3,000 for "behaviour that disturbs residents and pedestrians."
Infractions ranged from loud televisions, radios, music and "singing, shouting, fighting or any other type of nuisance." Street games that bothered other residents went on the blacklist, together with betting.
Neither is the trend limited to Madrid.
Barcelona set the ball rolling with a 2005 municipal proclamation penalising prostitutes, beggars and gamblers who plied their trade in the street. Fines have since been extended to public nudity and wearing bikinis or swimming costumes away from seafront promenades. They are only imposed if a warning from the municipal police is ignored, however.
Last summer 12,000 leaflets were distributed in Ibiza, reminding tourists and residents that, amongst other things, they were banned from drinking in the street, as well offering or soliciting sexual services.
Granada is another city which "in order to advance coexistence" expressly vetoed sexual practices in the street.
Anthropologist Manuel Delgado attributed "hyper-regulation" to councils' "distrust of the appropriation of any public space that cannot be taxed or profited from."
Sociology professor Marina Subirats who helped compile Barcelona's 2005 edict disagreed. "There is far more individual liberty now," she argued. "In the old days, a neighbour peering at you from the balcony was worse than any fine."
By Annie Maples