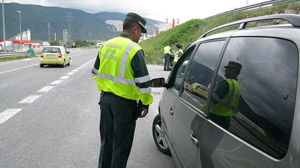 UNTIL Sunday, the Guardia Civil traffic department is carrying out 17,800 controls on secondary roads throughout Malaga province.
They will be paying special attention to excessive speed and distractions at the wheel.
They will also be watching out for unauthorized overtaking, alcohol and drug consumption, use of helmets and seatbelts; use of mobile phones or headphones; use of navigation systems while driving, and any other behaviour which can lead to the driver being distracted and endanger road safety.
In the five years since the point system came into effect for Spanish driving licenses, more than four million drivers in the whole of Spain have been fined for offences which led to them losing points, while more than 20 million still have all the points they started with, 12, and some even have two more for good driving.
Four per cent of the total number of drivers who have lost points have been fined on two or more occasions.
By Jennifer Leighfield