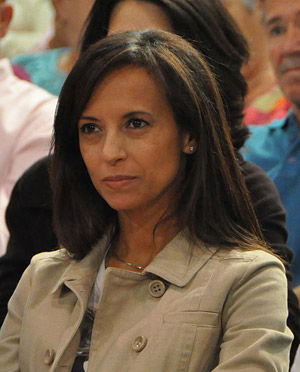 SPAIN'S housing secretary is "in denial" about expatriate property problems, claims MEP Marta Andreasen.
Housing secretary Beatriz Corredor made a speech this week at an international property exhibition in London's Docklands calling for Britons to trust in Spain and take advantage of its 'ripe property market'.
A heated discussion between Andreasen and Corredor ensued. "I was quite upset that she refused to accept or mention the fact that there were serious problems affecting Brits in Spain," Andreasen told the Telegraph.
"She referred to new reforms that had supposedly made Spain a safe country in which to buy, but these reforms neither resolve the past nor the present problems.
The British are among the highest proportion of foreign property purchasers, but the bad reputation Spain has earned itself has seen the level of interest in Spanish property plummet.
This so-called 'property roadshow' was to address that with the aim of portraying that everything is fixed and the Brits can start spending their money again. How wrong this is.
Regional governments pick fights with local governments, mayors and politicans take bribes, then get prosecuted for corruption – it really is difficult for any British person to trust anyone throughout the home buying process.
The minister made out that there were just one or two people with problems and that these were getting sorted out."
In her speech to an audience of developers, investors and protesting British investors, Corredor assured that "a decree to legalise existing illegal properties" combined with a "reduction in new house tax and falling house prices" made Spain the "ideal place in which to invest".
There was no mention of the thousands of expatriates who bought properties in good faith only to later find out that their homes are illegally built and therefore unsellable and excluded from local water and electricity supplies.
"I spoke in Spanish and in English so that people around would understand," said Andreasen.
"Afterwards I was approached by developers who said they too had been affected by the Spanish government's refusal to sort out the problem, and didn't expect to sales to pick up until the current problems had been solved."
Spanish Ambassador Carles Casajuana brought the argument to a close by leading Corredor away after Andreasen refused to shake her hand. The MEP has long campaigned on behalf of Brits experiencing property problems in Spain. She is currently urging the EU to stop funding Spanish regions until they resolve these problems.
This is the second time this year that Corredor has spoken to potential British investors to promote Spanish property as a good investment.
CAPTION: Spain's housing secretary Beatriz Corredor was in the UK promoting Spanish property this week.