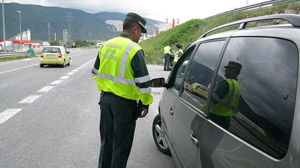 FROM Monday until this Sunday, the Guardia Civil traffic department is carrying out almost 17,000 controls on the Almeria Province secondary roads.
They will be paying special attention to excessive speed and distractions at the wheel.
They will also be watching out for unauthorized overtaking, alcohol and drug consumption, use of helmets and seatbelts; use of mobile phones or headphones; use of navigation systems while driving, and any other behaviour which can lead to the driver being distracted and endanger road safety.
In the previous campaign carried out by the Traffic Department in Almeria this summer, of the 3,806 drivers stopped, only 69 were over the legal alcohol limit.
According to the traffic delegation in Almeria, so far this year, 12 per cent of offences for which drivers in the province have lost points from their license have been for driving over the legal alcohol limit.
Since the system came into effect in July 2006, men in the province have lost 135,166 points, while women have lost just 20,272.