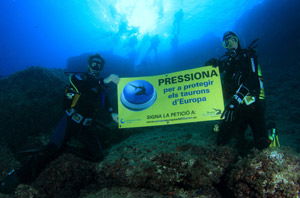 Local divers celebrated the European Shark Week this week by diving in waters off of El Toro to highlight the need for a new ruling on fishing in the European Union.
They are calling on EU fisheries ministers to protect sharks from overexploitation and finning – the wasteful practice of slicing off a shark's fins and discarding the body at sea.
Currently EU shark fisheries continue without limits, many endangered species remain unprotected, and the EU ban on 'finning' still has loopholes that make it possible to fin sharks without detection or punishment.
"The EU is a leader in the global catch, consumption and trade of sharks, and every EU Member State has the duty to press for sound shark conservation policies at the EU level as well as in our national waters," said Martin Clark, Coordinator of the Shark Alliance.
"We are hopeful that the public support expressed through European Shark Week will encourage decision makers to take a stand for the much needed protection of sharks from overexploitation and finning".
To sign the petition, go to sharkalliancepetition.org