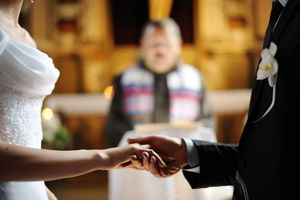 A PRIEST in Zaragoza has been sentenced to 29 years in prison for officiating marriages between Spanish citizens and immigrants.
The investigation began after a judge at the Zaragoza Civil Registry Office alerted of the large number of weddings between immigrants and Spaniards at the priest's parish church.
He apparently officiated 50 weddings between April and December 2007 knowing that they were for illegal immigration purposes.
The network which he had agreed to work with used ID cards stolen from Spanish women which were used for the identities of the women who got married to Albanian and Pakistani citizens.
Three women from Barcelona, who arranged the fraud, have also accepted the same sentence, and the Zaragoza archbishopric has also been sentenced for subsidiary civil responsibility to pay compensation to those affected.
The sentences initially proposed by the prosecution were 16 years each in prison for the accused for favouring illegal immigration, document falsification and using the identity of others, but this was reduced since they accepted their guilt and offered to repair the damage caused to others. The prosecution was asking for €20,000 for each of the women whose identity was stolen.
The network also arranged 'quick' weddings for real couples which saved them from having to carry out several legal steps, or found Spanish women willing to marry illegal immigrants in exchange for between €1,000 and €3,000.
There were also immigrant women who paid them between €3,000 and €7,000 for a fake wedding which allowed them to remain in Spain legally.