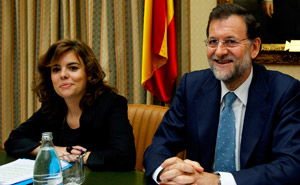 THE PP conservatives' voting lists sprang few surprises although fewer women occupy the upper reaches than their socialist counterparts.
Unlike UK elections where a member of parliament runs for an assigned constituency, Spain's political parties each present a list of candidates for a specific area.
The more votes a party scoops up, the more parliamentary seats are allocated to the candidates on its list. Those nearest the top of one of the 52 lists can be confident of securing seat but the odds lengthen for those closer to the bottom.
The PP is tipped to win the general election on November 20 and party leader Mariano Rajoy, who has always preferred to avoid internal conflict, appears not to have sought revenge by excluding plotters who tried to oust him in 2008.
Twenty-five of the candidates headed their lists in the 2008 elections and 15 are headed by a woman.
One of the PP's most prominent female politicians – Soraya Saenz de Santamaria, spokeswoman in the last parliament – follows Mariano
Rajoy on the Madrid list and if the predicted PP victory materialises she is certain to become a Cabinet minister.
Former minister Ana Pastor (Pontevedra), Celia Villalobos (Malaga), Teofila Martinez (Cadiz)), Fatima Bañez (Huelva), Concha Santa Ana
(Granada), Pilar Barreiro (Murcia) and Maria Jesus Bonilla (Cuenca) once again head lists. This will be the first time for Elvira Rodriguez (Jaen), Mercedes Fernández (Asturias), Rosa Romero (Ciudad Real), Maravillas Falcón (Albacete), Ana Madrazo (Cantabria), Beatriz Escudero (Segovia), Blanca Puyuelo (Huesca) y Teresa Angulo (Badajoz).