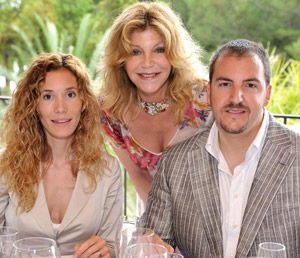 LEGACIES cause even more family rifts than money and Spain's extremely rich Thyssens are no different from anyone else.
Borja Thyssen, adopted 31-year-old son of the late Baron Heinrich von Thyssen, was left an annual income of $300,000 plus three payments of $1.5 million to be handed over at five-yearly intervals.
His inheritance, agreed after fierce infighting inside the extended Thyssen family, is administered by Borja's mother, Carmen Cervera, Baroness Thyssen.
Borja, say those close to the family, has cash-flow problems and wants to control his fortune himself.
Now 68, the Baroness remains Tita to those who remember her as a beauty queen and then an actress who after two advantageous marriages met Heinrich von Thyssen in 1982 and eventually married him.
Borja, fruit of Carmen's relationship with Spartaco Santoni, was immensely spoilt by his mother and adoptive father. However, since his 2007 marriage to Blanca Cuesta, a model five years his senior who was then five months pregnant, his relationship with his mother veers between farce and tragedy.
Their ups and downs, reconciliations and ruptures of the triangle, to which must be added the young couple's two children, are notoriously well documented, but at the heart of the conflict lies Borja's inheritance. Tita refuses to comment. "That's something we don't discuss. It was a decision we all took and I keep strictly to what was agreed," is all she will say.
Borja's camp is less tight-lipped. "We want an overall agreement spelling out that Borja owns assets to which he does not have complete access. It's an administrative problem," explained a source close to the family. Last May Borja tried to take matters into his own hands by removing two pictures from the Carmen Thyssen collection in Madrid, temporarily on loan to the nation.
The pictures – a Goya and a Giaquinto worth €7 million –were his, claimed Borja who was politely but firmly invited to leave the Thyssen Museum.
Lawyers are now attempting to repossess the pictures but the last word goes to the Baroness. "It's all mine. Exclusively mine. Letting lawyers take money is something else. Borja doesn't realise what he's getting into," she said.
Photo credit: verfamosos.com