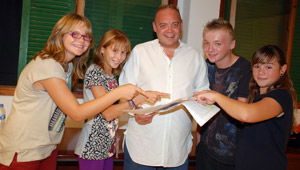 A FEW weeks ago NOMADS, The North of Mallorca Amateur Dramatic Society, started rehearsals for their production of The Snow Queen, which will be performed at Club Pollenca in late November and early December.
Things with amateur dramatics do not always go as smoothly as you would wish, and when a member of the cast had to drop-out because of illness, the producers of the show, Nickie Baylis and Nicky Liles, decided to adopt the policy that if you want a job done, you ask a busy man.
They approached English Radio Mallorca's Gary Hardley, who is also owner of Hardley's American Diner in Puerto Pollensa, and Gary agreed to take on the part of The Riddler, who only speaks in riddles!
Experienced members of the cast of The Snow Queen made Gary particularly welcome to his first rehearsal, but the younger members of the cast seem to have taken Gary under their wing, explaining what the story is all about and already setting targets for learning his lines. Good luck Gary.
By Howard Mullen