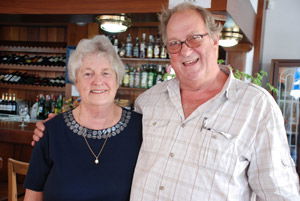 Following their rehearsal this week, The Music Makers in Puerto Pollensa held a special lunch at the Restaurant Ca'n Torrens to say goodbye to their Musical Director, Kate Brooker.
Kate, who has been Director of Music Makers for 14 years, has been on the island for 28 years, and will be returning to the U.K. at the end of the month. Of course this was the occasion for Music Makers to say a big public thank you to Kate "for all her commitment, her hard work and her patience", but it was also the occasion for a large number of people to say a personal thank you and goodbye to Kate.
Brandon Clark, a member of Music Makers reminded everyone of the members who could not be present for one reason or another, and Mary Brown presented Kate with three photographs of the local area, meant to remind Kate of the locality, and of Music Makers.
Kate will be replaced as Director of Music Makers, by Ken Greenall who described Kate as, "a hard act to follow". Ken has already started work with the choir on their next concert, which will take place during the first week of December.
Kate is going to Banbury in Oxfordshire, where she hopes to sing and do all the things that choir members do, "never smile, always have your music in the wrong order, never look at the conductor etc. etc."
Kate is indeed a hard act to follow, but we join with Music Makers when they wished her a happy retirement, (but nobody believes she will stay away from conducting for very long!)
By Howard Mullen