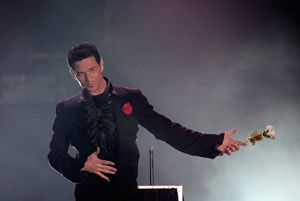 THE magician, Son Amar's own Miguel Gavilán will be honoured next week when he is presented with the 'Mandrake d'Or' in a ceremony to be held in Paris.
The 'Mandrake d'Or' is the equivalent of an Oscar and is one of the highest honours it is possible to bestow on an illusionist.
Previous recipients of the award include David Copperfield and Richard Forget.
Miguel is understandably thrilled to be receiving the title, 'only the best of the best are given this award, and I am very proud to have been included in the small group of magicians who are recognised in this way, he said. Miguel is not a stranger to awards as he was also voted the Best Magician in Spain in 2007.
Miguel, who is originally from Mallorca, performs his illusions to thousands of people every week at Son Amar, the world class dinner show in Palmanyola. Fans of magic will not be disappointed whilst Miguel is away in Paris as he will be replaced for two weeks (from October 4th to October 15th) with special guest illusionist Erick Lantin and his assistant Valerie.
Erick and Valerie have performed around the world with their animals and now live permanently in Mallorca with their family of big cats, snakes and exotic birds. Try to get a ticket to see them during their two week residency at Son Amar and prepare yourself to be amazed with their spectacular show.