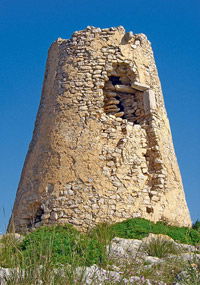 AN agreement has been signed for the restoration of the historic Torre Nova des Cap Vermell.
Three-quarters of the €87,639 cost will be paid by the Central Government and Capdepera Town Hall will pay the remaining 25 per cent. Torre Nova des Cap Vermell dates back to the 16th Century.
The restoration works on the 210 meter tall tower will take place over the coming three or four months and be ready in 2012.
The most expensive part of the restoration works is the transportation of materials to the tower's location.
It was built with limestone masonry and lime mortar, but nearly all of the exterior plaster has fallen off over the years along with many stones, which threatened the stability of the tower.