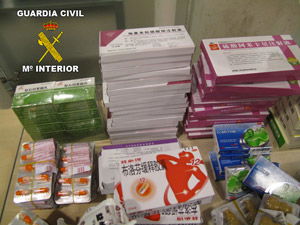 THE Guardia Civil have seized 12,000 packages of medicines which were being sold illegally.
The illegal goods were seized at the airports in Madrid, Barcelona and Valencia, as well as in shops in Madrid, Almeria, Granada, Malaga, Cadiz, Huelva, Valencia, Alicante, Castellon, Murcia, the Balearic Islands and the Canary Islands.
Some 3,000 packages were seized at the airports as they were being brought into Spain. Most of them came from China, via Frankfurt, Paris and Amsterdam.
They contained medicines such as Pollenin and Omeprazol, hormones, anabolic steroids and other products which are yet to be identified as they had no labels or were in Chinese.
The Guardia Civil also searched sex-shops, smart-shops and dietary shops where the products were being sold without authorization.