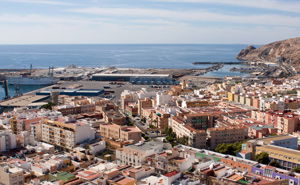 IN the first six months of this year, Almeria made almost €1m from cruise ship tourism.
In the whole of Andalucia, according to Cruises News Media Group, 425,000 people arrived at the ports of Sevilla, Malaga, Motril, Cadiz and Almeria, with a total expenditure of €26.7m in the region.
The best results were seen in Malaga, with €15.6m, followed by Cadiz with €9.48m, Almeria with €979,200, Sevilla with €438,840 and finally Motril with €204,840.
This, according to the study, proves that Andalucia is becoming an important cruise destination, and answers the question regarding whether this type of tourism is beneficial for Spanish destinations.
In the whole of Spain, more than 3.2 million passengers visited the national ports on cruises in the first six months of this year, spending more than €230m at their destinations, four per cent more than in the same period last year.