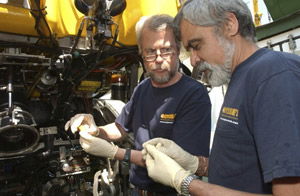 TREASURE-HUNTERS must return 500,000 gold and silver coins salvaged from a Spanish warship sunk by Britain in 1804.
The greatest treasure ever recovered from the seabed belonged to Spain, ruled an Atlanta tribunal, rejecting an appeal by Tampa-based Odyssey Marine Exploration Inc against an earlier decision in Spain's favour.
The Appeals Court decision was "a complete victory for Spain" declared James Goold, the U.S. lawyer representing the Spanish government.
Nuestra Señora de las Mercedes, carrying 17 tons of gold and silver coins, set sail from Peru in 1804 but was sunk off the Algarve coast by the British navy.
There it lay until 2007 when Odyssey divers located the vessel and began shipping coins back to Tampa in what it maintained was a legal operation in international waters.
The Mercedes was on a commercial mission when it went down, argued Odyssey, and the cargo was not covered by Spain's sovereign immunity.
The Atlanta court rebutted the company's claims and ruled that as a foreign navy vessel the Mercedes was immune from normal salvage rules.
It was carrying gold and silver pesos as well as almost 2,000 copper and tin ingots "partly to pay off France amid a three-way tangle of war involving Britain, France and Spain."
The ship was commanded by a Spanish navy captain who delayed departure from Lima to comply with Spanish navy orders to prepare for war with the British, said the court.
An undeterred Odyssey is now planning an appeal to the Federal Court and, if necessary, the Supreme Court.
The 500,000 coins and ingots sent to Spain 207 years ago are in one of Odyssey's vaults and they could remain there, far from their original destination, for some time to come.