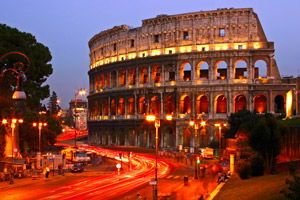 A ROMANTIC weekend in Rome with his ex-wife left Gerardo F.G. with a bank balance of 69 cents.
He is now suing both his Venezuelan ex, 33-year-old Monica Irene G.O., for taking €240,954 from his bank account and her friend, lawyer Yolanda G.M., for helping with the sting.
The couple married in 2004 but separated in 2008, shortly after 45-year-old Gerardo sold shares in a family business for €575,000 and put his assets in their joint name.
The husband remained in Alicante while his wife and their five-year-old son went to Venezuela.
Some months later, the wife suggested the Rome weekend as a way of getting back together for the sake of their son. Gerardo then gave her €4,000 to organise the journey.
After an intimate dinner "with a great deal of wine" on their last night in Rome Gerardo woke to find that his wife and son had disappeared.
The worried man went to the police following an unsuccessful search for them but on returning to the hotel learnt that his wife had left. Once at the airport, he also discovered that she had bought only one-way tickets.
Worse was to come when he found that Monica had emptied his bank accounts, leaving him with just 69 cents. Neither could the bank contact him to confirm the withdrawal as Monica claimed to have lost their mobile shortly before they left for Rome.
After nine months without news of his wife or child, Gerardo hired a private detective who located them in nearby Elche.
Despite his protestations, Monica was adamant that she had her husband's permission to use the money to open a shop in central Alicante. She also admitted wanting to prevent him from wasting the family money on his cocaine and gambling habit, an accusation which Gerardo denied.
The Prosecution Department initially recommended a four-year sentence for Monica and her accomplice, but said it is now reconsidering whether their conduct actually constituted a crime.