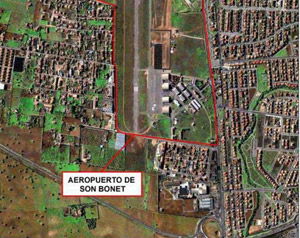 THE new plan for Son Bonet airport in Marratxi has finally been approved by the Ministry of Development.
Among the works to be launched by Aena is the extension of the taxiway – the track parallel to the landing strip – the expansion of security areas, the construction of a technical building, the widening of the runway and parking area for the planes as well as the construction of a new hanger.
The plan covers an area of 115 hectares, 12 more than the previous 2001 plan.
It is not clear when these works will commence, which is subject to "demand", "economic viability" and "maintenance costs".
Marratxi Mayor Tomeu Oliver of the Popular Party was against this plan. He does not understand why Aena want to undergo these works on an airport "that is entirely surrounded by an urban area".
"They want to increase the frequency of flight and the activity of the airport, which will be detrimental to the quality of life of citizens living nearby."