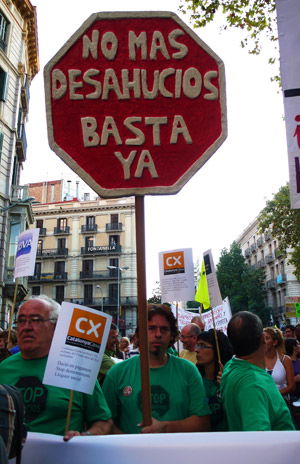 THOUSANDS in 40 Spanish cities called for a solution to the current mortgage situation.
Their principal demands were a halt to evictions, availability of social housing and the option of settling mortgage debt by returning the property.
The demonstrations, backed by the 15M and Democracia Real Ya movements, were organised by PAH and ADICAE, two support groups for home owners and bank customers with mortgage problems.
The Madrid demonstration attracted 5,000 protesters according to the organisers, although municipal sources put the figure closer to 500.
Hundreds protested in Andalucia's cities, including Malaga and Almeria where "We want a flat like the Prince's" was a popular chant with the crowds.
Valencia, a region with an estimated 72 repossessions and evictions each day, also saw protests in its capital city.
The common theme was a halt to evictions during a time of crisis and unemployment and the possibility of settling a mortgage debt by giving the property back to the mortgage provider.
Legislation should be modified to allow this to be done retroactively so that families did not find themselves in the street, said PAH spokeswoman Chema Ruiz.
There were 16,000 evictions in Spain due to repossession during the first three months of the year, Ruiz claimed, and proceedings had begun against a further 1.5 million defaulters. She had asked the present government, and would ask whoever won the November 20 election, to turn empty flats and houses into social housing so that the sector "became a public service instead of a business."
A three-year mortgage moratorium was ADICAE president Manuel Pardos' suggestion. This would enable a "peaceful discussion" in the new parliament of the best course to take, he believed.
Jorge Garcia Castaño, an IU councillor in Madrid supporting the protesters, accused bankers of being "pirates" making enormous profits out of the crisis. "But the protests will not go away," warned the leftwing politician.