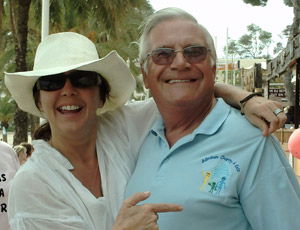 FOR the past seventeen years a group of ladies and their friends from Oldham, Greater Manchester, have visited Magaluf on holiday.
They call themselves 'Amigas para siempre' – friends forever – and they return year after year to have fun and raise money for local charities on the island.
This year they are back this Saturday (October 1) and ready to have a good time and collect funds for a good cause, the Allen Graham Charity 4 Kidz.
The highlight of their stay is a beach party that is held at the Boatyard Restaurant/Café on the beachfront at Magaluf next Wednesday (October 5).
This year English Radio Mallorca has been asked to provide the entertainment for the afternoon.
"I am delighted that we have been asked to help" says Laura Penn of English radio (ERM). "We have supported the "Amigas" and Allen Graham for years and are very happy to be involved.
All the radio team will be there doing various things and we have put out the word to all our entertainer friends. Many of them have already volunteered to perform on the day so it is going to be a mini Mallorca Live Aid!"
There will be an auction on the day with lots of great prizes including a makeover for two, as well as magic tricks, and a few surprises.
"So far Jon Paul Bradshaw, Nicky Stixx, Leapy Lee, Liam Live, Martin Diaz, Jerri Rouw, Mark Gibson and Jeannie, Mike Jones, Vinnie Scott, Lady Letitia and magician Andy Charlton are all lined up," said Laura.
"We are really excited that Danny Darcy and the lads from Durty Nellys bar will joining us this year for the first time as a climax to the afternoons entertainment." "Plus 50 lads from Cork are coming especially to see the Irish boys so it is going to be a bigger party than ever before!"